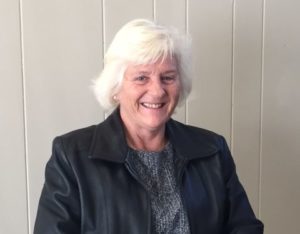 Ms. Patty just started her tenth year with Premier. She has a class A Commercial Drivers License, she has driven tractor trailer cross country for two years, a school bus for ten years, she still substitutes when needed. Ms. Patty works full time for Harford County Department of Public Works Highways as an Equipment Operator. She operates loaders, rollers, backhoes, boom trucks and just about any equipment the County has. Highway employees have a snow route they have to plow and salt when necessary. So if you live in the Bel Air area you may see her in the plow truck.
Ms. Patty grew up in Harford County graduating from North Harford. Her Mom and Grandparents were from Baltimore County so she knows both Counties very well. Ms. Patty has a daughter and grandson. He races four wheelers and does very well. She has two dogs, chickens and a rooster; a true animal lover.
Ms. Patty loves teaching behind the wheel lesson, especially parallel parking. Student's are just amazed at how easy it really is after all the stress and worry over it. Highway safety is very important to her and her jobs. Ms. Patty loves to drive. It can be fun and challenging.